Whether you're looking to buy a home in a Near North high rise or you hear the Bungalow Belt calling your name, research has consistently shown that owning real estate can be one of the smartest investments there is for building wealth, and securing your long-term financial outlook - even in these unpredictable times.
Survey Consistently Ranks Real Estate as the Best Long-Term Investment
Homeownership has long been favored as a way to start building up your wealth, particularly when you look ahead to the future. In fact, did you know that, historically, current and future homeowners trust real estate as a worthy long-term investment tool more than any other investment vehicle? In a 2020 survey from Gallup, brought to our attention by Keeping Current Matters, Americans selected real estate as their choice for the best long-term investment for the seventh year in a row, rating it above stocks/mutual funds, gold, and bonds. 
And the number of Americans who believe in the investment potential of real estate is only growing. In 2011, a solid 19% of U.S. residents thought of real estate as the smartest choice to put their money; in 2019 and 2020, this total increased to a whopping 35%.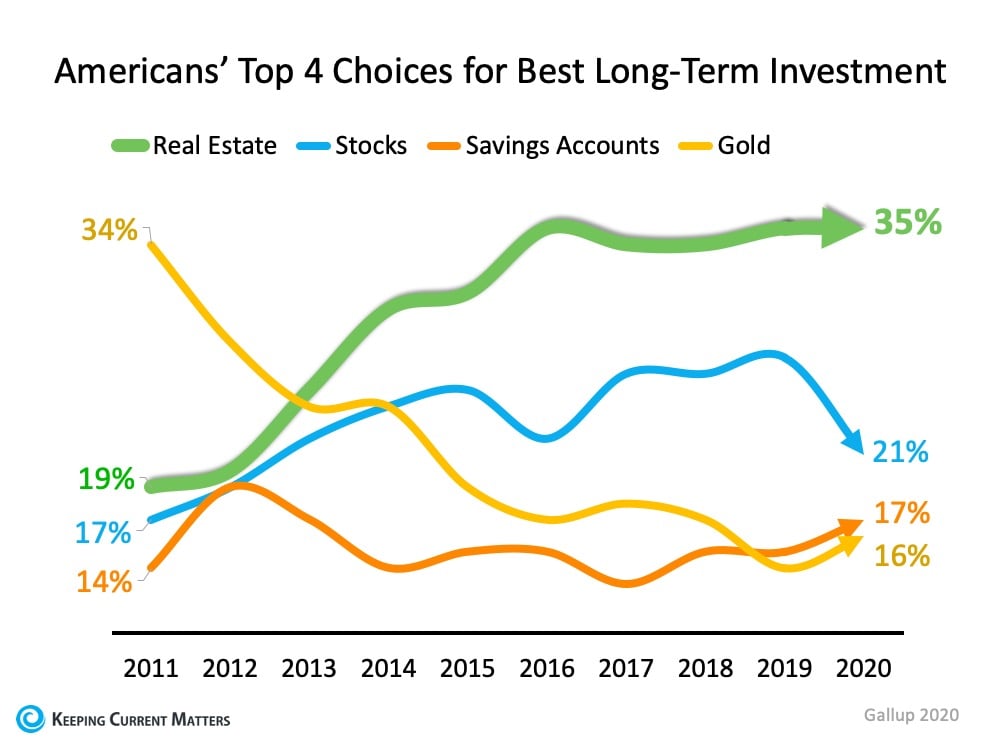 How Real Estate Creates a Reliable Path to Wealth
If you purchase a home with a mortgage, a portion of every payment you make each month goes toward paying down your loan. In the long term, this means that each time you make a monthly payment, you're steadily building your net worth by building equity in your home. In time, this creates what the National Association of Realtors (NAR) calls "housing wealth," which is built up over time "by paying off the mortgage debt and by price appreciation."
The NAR's formulation is pretty straightforward: 
"Principal Payments + Price Appreciation Gains = Housing Wealth Gain"
Let's break this down! In other words, as the market appreciates, your home is likely to steadily gain in value. Data from the NAR, reported by Keeping Current Matters, indicates that the median sales price for an existing home, nationwide, was 35% higher as of summer 2020 than in summer 2006 - which itself marked a high point before the Great Recession. 
Meanwhile, you steadily own more of the home, unencumbered - putting you in a better position to leverage your property as an investment or make a profit when it's time to sell down the line. In contrast? When you rent, your money flies out of your pocket, and goes toward helping your landlord build their wealth. 
This data from the NAR, visualized by Keeping Current Matters, helps illustrate the homeownership wealth that owners have gained, on average, since purchasing a "typical" home with a 10% down payment and a 30-year fixed-rate mortgage, as of Q2 2020, factoring in price appreciation and principal payments: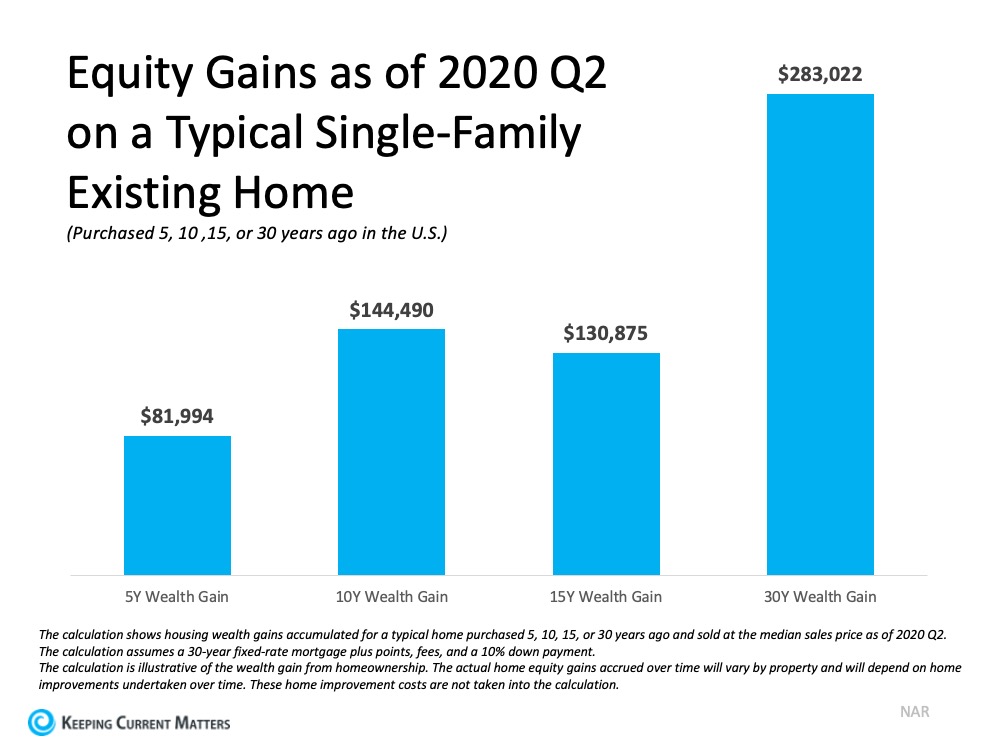 At the same time, homeownership offers another wealth-building perk - fixed rates. When you secure a fixed rate mortgage, or a variable rate mortgage with a long fixed period, you'll be "locking in" the monthly cost of what is likely to be your most substantial expense. This can provide predictability and financial stability, particularly in the face of a changing economy - like the turbulent times we saw in 2020. 
On the flip side, rental costs tend to rise year to year or even month to month, even as you see none of the benefits of appreciation or inflation. That is to say that while your mortgage payment may be the same in fifteen years as it is this month, your monthly rent payment most certainly will not be. 
So, in a nutshell? Not only does owning a home empower you to gain wealth in the form of equity and resale value, but it also allows you to enjoy a fixed and predictable expense over time - with the beneficial option of refinancing to take advantage of even better interest rates, should the opportunity arise. (More on that in a second!)
And that's not all. It's important to consider some of the other financial benefits and considerations that tend to go hand-in-hand with homeownership, including: 
Tax Benefits 


Not only will your home gain value over the years, but you'll be able to save through state and local tax breaks that benefit homeowners. While it's important to keep in mind that tax law can change, and often does, Illinois currently allows for homeowners to write off certain parts of their home expenses on their state taxes. In many cases, homeowners will be able to deduct

mortgage payment interest

, as well as

property tax payments

, from their income tax.  
Enjoying 'The Good Kind' of Inflation


Low interest rates and tax breaks can make owning a home a financially smart move over time, but what about inflation? While the term usually has a negative connotation, real estate is a steady and stable investment wherein economic inflation can often actually work in a homeowner's favor. As this great article from

Forbes

points out, a homeowner's mortgage payments and property taxes will largely stay the same over the years and, "when you combine this with rising rents and home values (due to inflation), you start to see big results."
Retirement Income for Your Later Years


One of the best parts about homeownership is that you're really paying

yourself

in the long run, rather than a landlord or property company. The equity you build from owning your own home can be leveraged as a "nest egg" or used to help bolster your retirement fund, including your 401(k) and IRA accounts. Retirement can seem like a faraway aspiration, but the steps you take now can lead to ongoing financial growth and stability, even when you're no longer working. As

Keeping Current Matters

has noted, one prominent study discovered that "a renter 65 years old or older has a net worth of $6,710. Meanwhile, a homeowner 65+ years old has a net worth of $319,200." This equity gap can mean big lifestyle differences, especially in retirement. 
So, as we've discussed, real estate can be a powerful long-term investment, and a tried-and-true path to building wealth in the future. However, in order to trust that real estate is a smart way to invest your time and money, it also helps to look at the most recent and ongoing market and lending trends. Gaining a clearer perspective on the short-term can help you plan for the long. One major narrative taking shape for 2021 is that... 
Low Interest Rates Give Incentive to Act Now
One factor that could make purchasing a home particularly enticing in today's market is historically low interest rates. For homebuyers, keep in mind that there are many different mortgage products and loans out there, including FHA (Federal Housing Authority) and VA (Department of Veterans' Affairs) loans. There are associated benefits with each, including one of the most common and financially lucrative types of loan, the 30-year fixed. 
With a 30-year fixed rate loan, a homebuyer locks into a consistent interest rate and steady monthly payments for the life of their three-decade repayment plan. A 15-year fixed rate offers similar benefits, over a shorter span of time. There are also "hybrid" ARM products, where a buyer may lock into a fixed interest rate for a number of years, before converting to a variable rate for the remainder of their term. 
With a mortgage, you generally commit to an interest rate until you pay off the amount of your loan or refinance - which can offer stability, and cost savings, over time, making your payments more predictable while also sparing you from the ups and downs of the economy at large. 
While interest rates are constantly in flux and change daily, overall trends and comparisons show interest rates hovering near record lows at the end of 2020 - with the average interest rate for a 30-year fixed loan falling to 2.71% in November 2020, the "the lowest level" that Freddie Mac has observed in "nearly 50 years," according to a report from CNN. 
These low rates are an exciting prospect, especially for potential buyers who are looking to wisely invest in their future. Locking into a low mortgage interest rate now could mean significantly lower monthly payments down the line. 
The Bottom Line 
Owning a home can be one of the smartest investments to make during your life. Not only is property one of the few usable, and most stable, assets there is, but you can actually witness your net worth grow over the years as you build equity and your home becomes a source of passive income. 
Whether you're ready to start the search for your first place or you're in the market for your next real estate investment opportunity, don't hesitate to drop Real Group RE a line! We have the skills and the expertise it takes to find you the perfect Chicago home, while making the process easier at every step of the way.